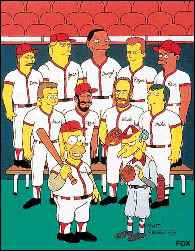 Editor's note: this is clearly a blog devoted to football, but special exceptions will be made for the boys of summer as they play to be done with the season in time to trick-or-treat with their spoiled bastard children.
CHEERS to being able to choose from a Monday Night Fooseball matchup between the Cincy Tiggers and the New England Videographers; a wild-card tiebreaker between the Saint Diago Fathers and the Colorado Rockies; Weeds and Californication on Showtime; and Heroes on NBC (which my wife absolutely loves, but frankly I could take or leave)


BOO-Urns to not being able to watch everything at the same time.


CHEERS to the Pod Person who took over the body of Randy Moss. I mean, the guy makes for great football. But I hear that if you show emotion or sleep around him, he will eat you. Eat you, like swallow your body whole and replace you with another pod person. Perhaps that's at the root of Bill Belichick's success. Frankly... it all makes sense now.


BOO-Urns to the Cincinnati Tiggers. That's right. Tiggers, as in the Winnie the Pooh character that's all flash and no danger. Tiggers may pounce on you, but it's in a playful way. They don't cause any harm, except to your digestive tract as you vomit because you expected them to help push the score over the posted 52.5. Jerks.


CHEERS to the Colorado Rockies for making the post-season, and to that entire game last night. Both teams wanted it passionately, and unfortunately for the Padres, the Rockies had the horse shoe up their posteriors.


BOO-Urns to Cal Ripken Jr. as a studio analyst on TBS's post-season coverage. He looked like a middle-aged mad slouched over at a bar, impatiently waiting for his next drink. It occurs to me that I committed a mortal sin in the Baltimore region by slandering Cal. If I never make another entry to this blog, you'll know what happened: I was crucified for making fun of Cal.