Lights up.
The scene: A New York Giants meeting room. TOM COUGHLIN stands in front of the assembled New York Giants roster, holding a Target bag.
ELI MANNING dozes at the center of the room. Some of his teammates look on unapprovingly.
TOM COUGHLIN:
ELI! Wake up you little panty snot!
ELI glances up, flips off Coughlin.
COUGHLIN:
Fine, you wanna lose by 21 this weekend? I'm not the one whose brother is worshipped by the unwashed masses. Not to mention, your daddy will stick his foot so far up your ass your boogers will have shoe crud in 'em.
ELI shrugs.
COUGHLIN:
SHOE CRUD! Nasal... Shoe... Crud... it tastes like... well fine then. I guess we've studied our game plan enough. In light of Tiki Barber's continued criticism of me making you crawl underneath barbed-wire, through broken glass while whistling "The Battle Hymn of the Republic" last year, I'll make you play board games instead. Since you're all a bunch of pansy-ass queens anyway. Here. I hope you all die on Sunday.
Coughlin tosses a stack of games out, MICHAEL STRAHAN jumps to catch one.
STRAHAN:
Ooh! CANDY LAND! I wanna be Queen Frostine!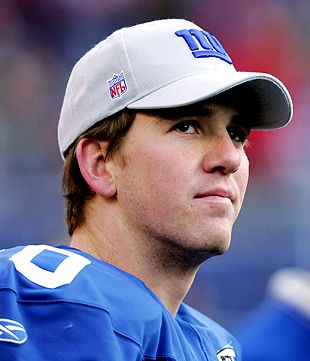 One rogue box brains ELI MANNING, knocking him unconcious.
COUGHLIN:
Aw, shit. Now Archie's gonna kill me.
Dissolve to:
A SHADOWY FIGURE stands above ELI.
SHADOWY FIGURE:
Hey, kid. You alright?
ELI:
Yeah, I guess so... something hit me in the noggin. Mighta been Strahan's balls again.
ELI recognizes this shadowy man.
ELI:
Jose? Is that you? Jose Canseco?
OZZIE CANSECO:
Nah, he's going to the sixth layer of hell. I'm his brother Ozzie. Welcome to Land of Inferior Brothers, Pro Sports division!
ELI:
You gotta be kidding me.
ELI glances around the room. JORDAN PALMER, brother of Carson, skips by wearing a padded safety helmet and a smiley-face balloon chanting to himself. MIKE MADDUX, Greg's big brother, pitches underhand to Cal's brother BILLY RIPKEN, who swings and misses.
BILL RIPKEN:
C'mon
Fuck Face
! Throw me something I can hit.
Off in one corner sit all three TUIASOSOPO BROTHERS, flashing gang signs as ELI and OZZIE walk by. JERRY HAIRSTON prices HgH at the concession stand.
JERRY HAIRSTON:
Can't I get mail order down here?
The shopkeeper shrugs.
OZZIE puts his arm around ELI's shoulder.
OZZIE:
So, what do you think?
ELI:
I think this is worse than getting beaten by Archie under the Christmas Tree when I only bought him Soap on a Rope for Christmas.
OZZIE:
Yeah, I hear that. Archie's bloodlust frightens us all.
ELI:
How do I get back to the Giants' locker room?
OZZIE:
You really wanna go back there? Jeremy Shockey gives me the creeps. And, dude, think about who's in MY family.
ELI:
Tru dat. No man, I don't want to get stuck down here. Can't Peyton and I peacefully co-exist? I mean, I'm the #17 ranked quarterback in the NFL this season!
OZZIE:
(snickers) Hmm. #17, you say? Yeah, that ain't gonna buy you out of here. My advice? Plant drugs on him or something. Talk to those guys over there.
MARCUS VICK stands in a dark corner, offering marijuana to passerby.
ELI:
Yeah... that's scarier than my dad.
OZZIE:
Fair enough.
JORDAN PALMER skips up to ELI and offers his balloon.
JORDAN:
GOD LOVES ME!
OZZIE:
Sure he does, Jordan. Sure he does.
JORDAN waves his balloon in ELI's face again.
ELI:
You'd better keep that, buddy.
JORDAN:
YAY! GOD LOVES ME! AND SO DOES PEYTON MANNING!
JORDAN hugs ELI, practically smothering him.
ELI:
(struggling to breath) I'm... not... Peyton...
JORDAN releases ELI from his monstrous grip, then kisses him on the cheek.
JORDAN:
I LOVE YOU PEYTON MANNING!
JORDAN skips away, singing about God.
OZZIE and ELI look at one another.
ELI:
Drugs, then?
OZZIE:
I wish I'd thought of that before Jose retired.
A distant rumbling is heard...
OZZIE:
Looks like your visit is over, kid. Just remember... no one likes a Super Bowl-winning quarterback that gave hashish to a 10 year old.
The rumbling gets louder...
OZZIE's face dissolves into that of JEREMY SHOCKEY, whose greasy hair shakes as he pummels ELI with bitch-slap after bitch-slap to the face.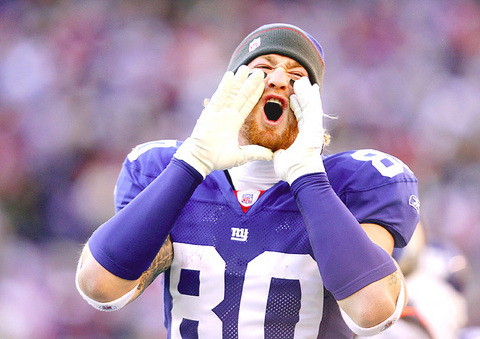 SHOCKEY:
WAKE UP! WAKE UP YOU PANTY WASTE! WAAAAKKKKEEE UPPPPP
ELI starts to wake up. He turns his head, SHOCKEY's slap misses it's target.
SHOCKEY:
YARRRRGGGHHH!
SHOCKEY slips off of ELI's stirring body, tears his groin, and will miss the rest of the season.
TOM COUGHLIN:
Yeah, I'm getting fired.
~fin~